Raising funds for Safer Places in conjunction with Charity Challenge
When I set up Solus Financial Planning Ltd I wanted to build a business that reflects my values. One important value of mine is giving back and I decided that the business would make a commitment to donate 10% of profits to charity.
The next question was which charity or charities? Having established that the aim of Solus Financial Planning is to help people who are widowed or who are going through divorce or relationship breakdown, it was logical to adopt charities that help people who find themselves in difficult and demanding situations. I want the emphasis to be on local charities because I feel more connected helping a smaller group that does valuable work but doesn't have such a high public profile.
Unfortunately too many people find themselves in abusive situations and that's where Safer Places can help. This Harlow based charity works to support victims of domestic and sexual abuse towards recovery, resilience and independence and through training others to help them to respond.
This challenge was completed in order to raise funds for Safer Places and Solus Financial Planning Ltd donated the necessary fundraising to Safer Places.
The walk started at the Amex Stadium in Brighton, home of Brighton & Hove Albion. I've never visited the Amex but from the outside it's certainly a lot different to the old Goldstone ground I remember as a lad, as befits a Premiership side I guess!
After the initial briefing from the three instructors the nine of us taking part set off.  The format for the walk was one instructor at the front, one at the back and one in a vehicle who would meet us at various check-points.  By now it was already dark and head-torches were switched on, reflecting the high-vis jackets we'd all been given for safety.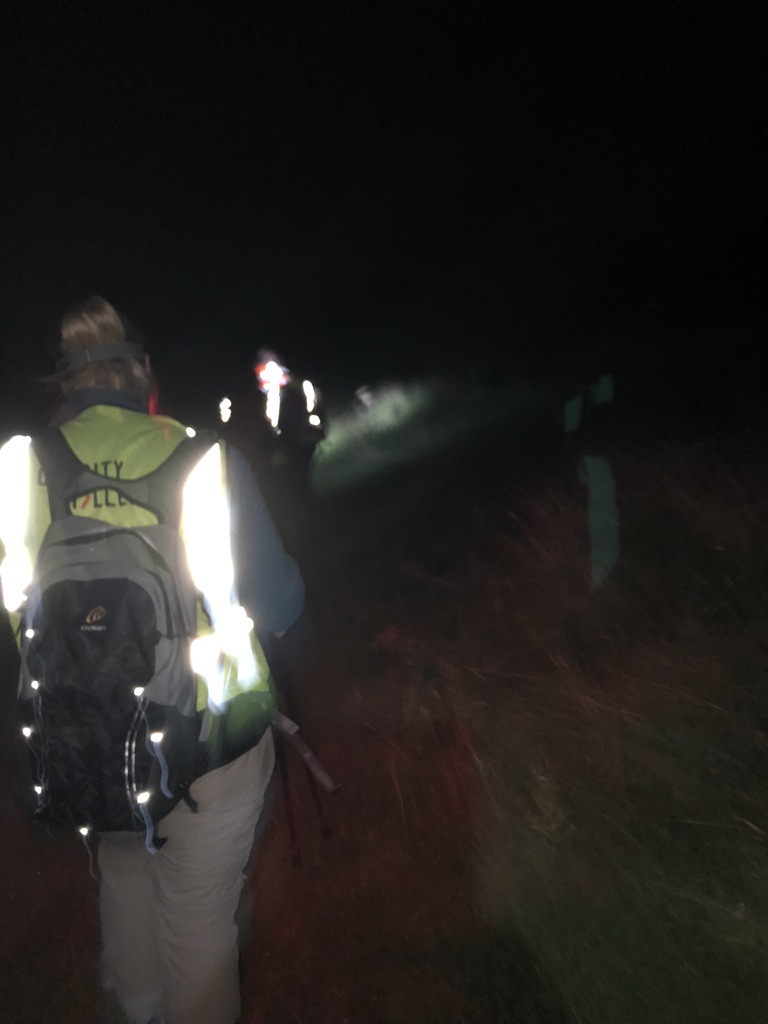 We made brisk progress across the downs from Falmer, with the lights of Lewes, the County Town of East Sussex, clearly visible to our left and soon arrived at our first checkpoint at the YHA Hostel in Southease.  A quick coffee, addition of wet-weather gear as a light rain started and then we were off towards Firle Beacon, the first hill of the hike.  Had we done the walk in daytime the views would have been superb; and had it been a clear night the starlit sky would have been incredible.  Unfortunately neither scenario was the case and we progressed along the South Downs, maintaining our height until we descended into the now sleeping village of Alfriston at around 1:00am Sunday morning.  
Another brief stop allowed some of the team to tend to blisters and then we were off along the banks of the Cuckmere River with only the light from our head-torches to guide us and allow us to see some Swans watching calmly from the river as we trooped past.
Another brief stop at the Cuckmere Inn, unfortunately well and truly closed at just after 2:00am saw our original group of nine divided into one of six and one of three. Some of the group had found this "Challenging" route living up to its billing and decided that it was time to call it a night. For those of my readers who were on the London 10 Peaks, which is how I came across Charity Challenge, imagine that walk at a faster pace, with fewer stops, steeper hills and in the dark!
The light rain had now stopped and another mile or so took us to our last stop and decision time; were we ready for the final challenge?
With an emphatic YES the remaining six plus two instructors now progressed to the real challenge – The Seven Sisters. Pictured below on a clear day!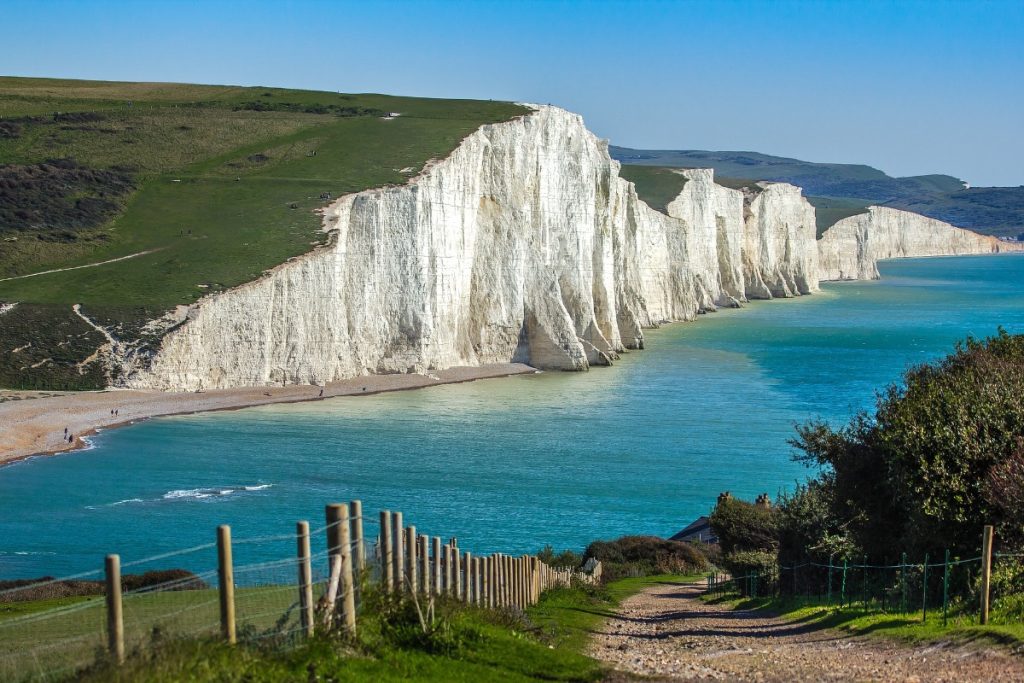 These cliffs will be familiar to many as they are often used as a proxy for the White Cliffs of Dover, numbering in Robin Hood: Prince of Thieves; Harry Potter and Hope Gap amongst their film credits. 
Starting at sea-level we progressed up and down each of the peaks and dips. A little-known secret – due to coastal erosion there are actually eight sisters!
Our group then paused as we headed over the brow in the early dawn and saw Beachy Head Lighthouse below us:
By now we'd completed around 24 miles and been walking for about 10 hours so what we really needed was the rain to start again! Now it was definitely raining and this lasted for the final hour to The Beachy Head Pub; also closed! 
We were then ferried into Eastbourne where breakfast at one of the sea-front hotels had been organised; having been assured by the instructors that all calories were null and void for at least 48 hours I certainly made use of the buffet service!
After breakfast a little medal ceremony took place, much to the bemusement of the hotel guests, who were already wondering what these dishevelled people in muddy walking boots were doing in their nice hotel!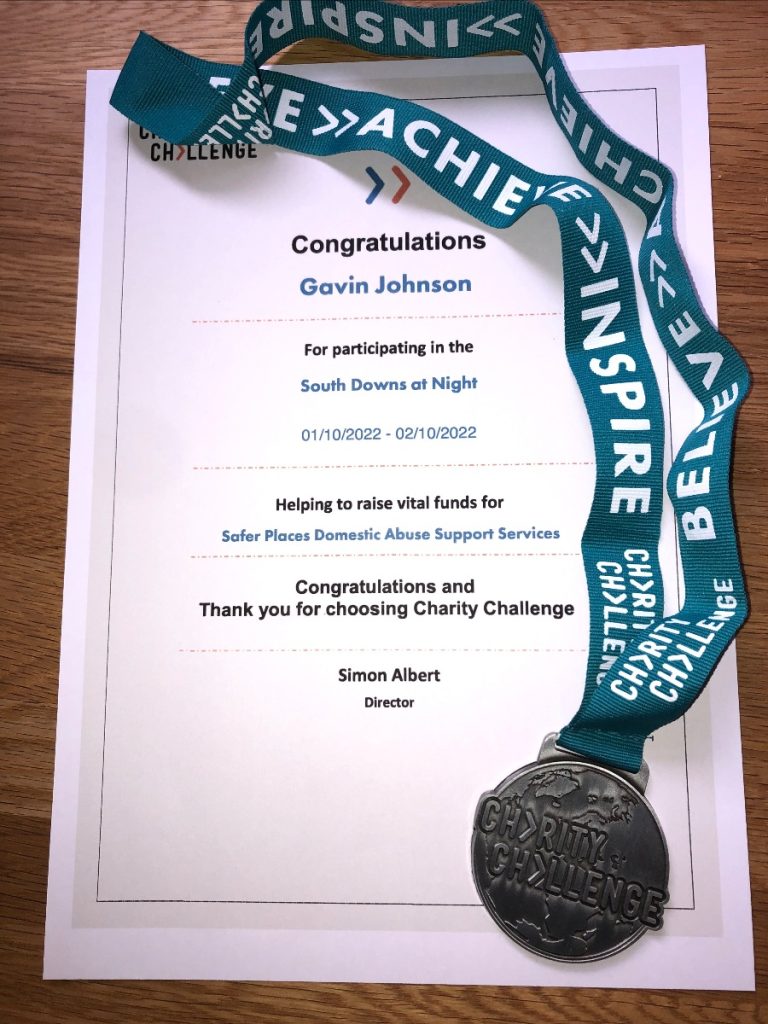 Then it was time to say our good-byes and I downloaded my Strava as another record of a memorable trip: 
Charity Challenge were great, the trip was well organised with plenty of communication before the trip, including kit-lists, training suggestions and lots of other information.
My special thanks go to Group Leader Tom and Instructors Ian and Sam for their support and encouragement.
As many of you will know, being outside is my passion and walking forms an integral part of that. I really enjoyed the trip and I'm delighted to be able to help Safer Places continue their great work.
I'm already looking already at my next challenge so that Solus Financial Planning can continue to give something back so watch out for more in 2023!